What, Why & How for the New TDS Rules That Will Be In Effect From July 1, 2021
Background
The Assessment Year (AY) 2020-21 accumulated 6.83 crores Income Tax Returns (ITR) out of a working population of about 66.22 crores. And these are only individuals. With 10.07 lac active companies in India, the number of ITRs filed is alarmingly low.
In order to bring an end to this menace, the Government of India in its Union Budget 2021 has proposed to levy a higher rate of tax deducted at source ('TDS') and tax collected at source ('TCS') on non-filers of the income tax return.
According to the Finance Minister's Budget, this new TDS rule will take effect from July 2021.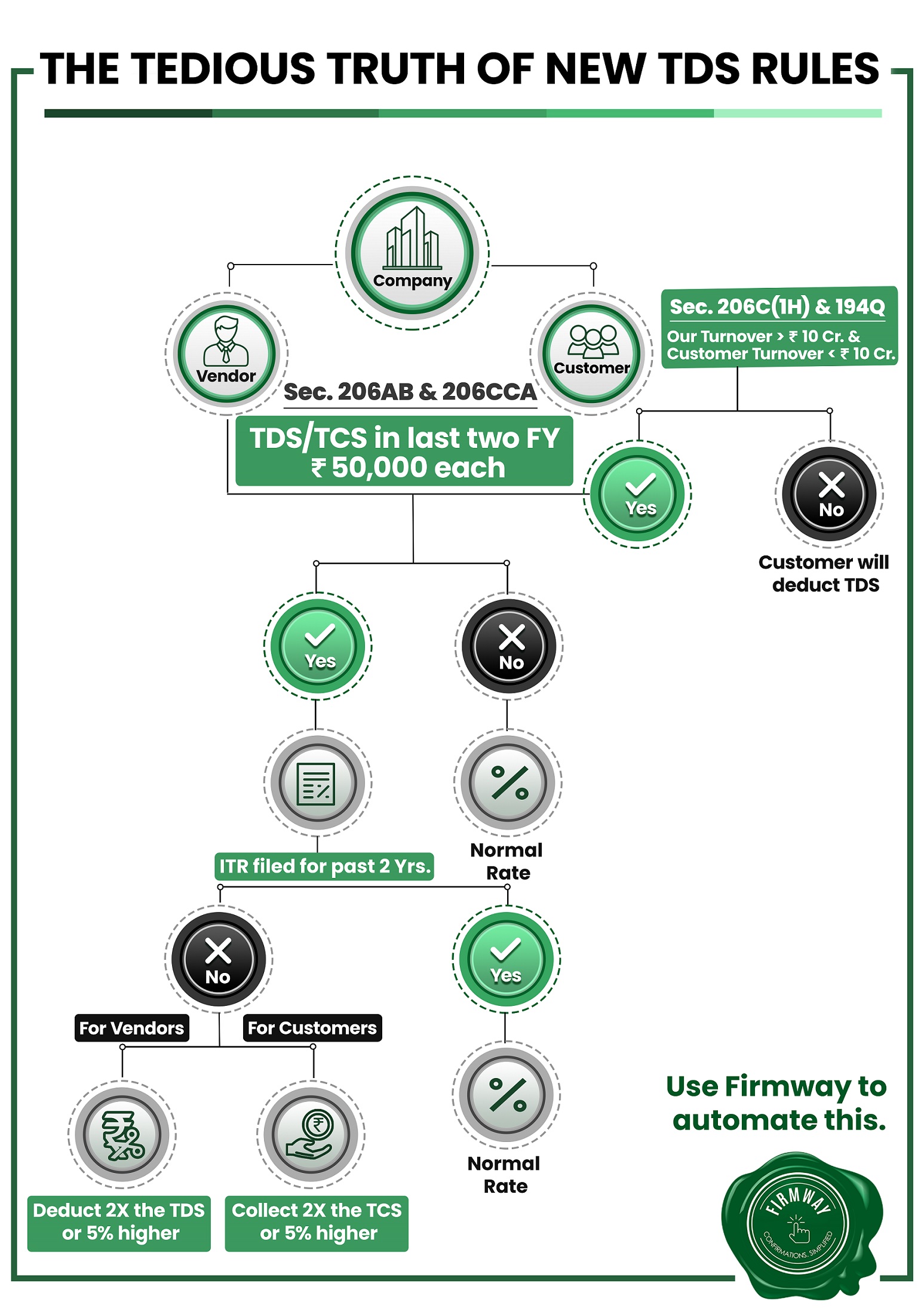 TO WHOM DO THE NEW PROVISIONS APPLY
-All Companies who are liable to deduct TDS on Vendors
-Companies with a turnover of more than 10 crores who are liable to collect TCS from customers
WHAT DO THE PROVISIONS SAY?
Section 194Q (TDS) & Section 206C(1H) (TCS)
– Section 206C(1H) – w.e.f 01st July 2021, a seller with a turnover of more than Rs. 10 Cr in the previous financial year needs to collect 0.1% TCS on sale made to a resident buyer over and above 50 Lakhs
– Section 194Q – w.e.f 01st July 2021, a buyer having a turnover of over Rs. 10 Crore in a previous financial year need to deduct 0.1% TDS on purchase made from a resident seller over and above 50 Lakhs
Exemptions
Section 194Q shall not apply to a transaction on which:
(a) tax is deductible under any of the provisions of this Act; and
(b) tax is collectable under the provisions of section 206C other than a transaction to which section 206C(1H) applies.
Section 206AB – Escalated TDS & Section 206CCA – Escalated TCS
TDS is to be deducted and TCS is to be collected at twice the rate specified, or twice the rate in force or 5%, whichever is higher, if
– The person to whom payment is being made (Section 206AB) OR to whom the sale is being made (Section 206CCA) has not filed ITR for the last two FY for which the ITR filing deadline has expired, and
– In these two FY's, TDS deducted and/or TCS collected of that person was Rs 50 thousand or more in each FY.
Exemptions
– Section 206AB shall not apply where the tax is required to be deducted under the following sections of the Act:
CHECKLIST FOR COMPLIANCE
*The above requirement (Pt 1 & 2) is not applicable to vendors.
Further, with ITR acknowledgements and PAN Number, you can search the ITR filing status on the Income-tax website – https://www1.incometaxindiaefiling.gov.in/e-FilingGS/Services/ITRStatusLink.html?lang=eng
As evident from the above checklist, fulfilling compliance with these provisions is no mean task. The most cumbersome part of it would involve reaching out to all customers and vendors, endless follow-ups, validating the data, which is imperative to the compliance process. For large organizations, this could easily take weeks, putting their finance team under undue pressure.
With Firmway, you can save significant time and efforts by automating the entire process of collection of ITR acknowledgements and declarations. It will reach out to all your party, follow up with them, collect and validate the data through smart forms and give you a dashboard to track the response. This will ensure your compliance procedure is complete well within the deadline.
To get started, simply fill out
this form 
and our representative will get back to you within 24 hours. In case of any specific questions, you can reach out to us at 
[email protected]
 or give us a call at 
9769599848.